Ismo Sipeläinen to compete at Bocuse d'Or: High efficiency and perfect clothing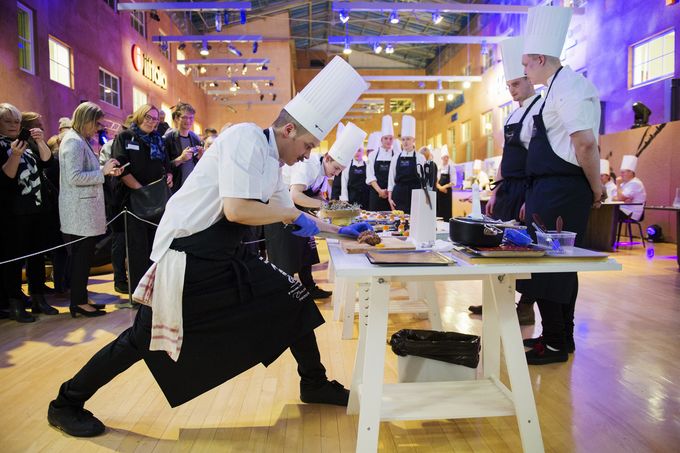 Award-winning chef Ismo Sipeläinen intends to impress the judges at Bocuse d'Or in Turin in June. The competition is also known as the world chef championship. Equipped with pots and pans and perhaps even Lappish potatoes, Team Finland will be wearing Medanta.
Training for Bocuse d'Or is a full-time job. Finland will be represented by award-winning chef Ismo Sipeläinen, 27, and his assistant Johan Kurkela, 21. They have been preparing for the event since February. Everything must be perfect when the competition starts on 12 June 2018.
Aiming for the top is demanding. To ensure high efficiency, a training kitchen has been built at Perho Culinary, Tourism and Business College that is as similar as possible to the kitchen at the event in Turin. The duration of each procedure is measured precisely. The outfits need to be equally perfect and precise, which is why Sipeläinen and Kurkela are wearing Medanta, both during practice and in competition.
Sipeläinen is known not only for his cooking skills, but also for his impressive moustache. Style is important to him, even in terms of work clothes.
"Black trousers and shoes and a white jacket. Those are my favourites. And a white apron in competition."
However, he is open to suggestions. "Of course, this is a matter of style and opinion, and the choice of work clothing always depends on the restaurant concept. White clothes are not the best choice for all restaurants."
It is also important that the chef's jacket is light and breathable and fits well. "Otherwise, you need to keep adjusting the jacket, which interferes with work."
In a competition, that is out of the question, as every second counts.
Lappish potatoes and forest flavours
At the moment, Sipeläinen's schedule is full of testing. Team Finland trains and discusses ingredients at the Perho training kitchen at least five days a week. Lappish potatoes and a few delicacies from the forests are likely to make it onto their competition menu.
"As a brand, Finnish food is not as strong as that of our Nordic neighbours. However, if we take a closer look, we have much to offer: berries, mushrooms, elk, willow grouse, perch, pikeperch, pike ..."
In Turin, Sipeläinen wants to impress the judges. Of the twenty countries participating in the qualifying event, ten will make it to the finals in Lyon, France, in 2019.
Sipeläinen is not new to Bocuse d'Or. In 2010–2011, he attended the event as assistant to Matti Jämsén. This year, the team is being coached by Eero Vottonen, who spurs the team on or calms it down, depending on the situation.
Good work clothes boost confidence
Team Finland is not going to travel light. Worktops, an induction cooktop, an oven, a hot counter and heat lamps will be transported from Helsinki to Turin, along with food processors, blenders, a kitchen cutter, knives and bowls, as well as pans, deep fat fryers, dryers and paper towels.
Plates will be provided on-site – the teams have been able to choose from four options.
During the competition, the teams will be wearing chef's jackets provided by the organiser. Outside the kitchen, however, they will be recognisable from their team outfits. Sipeläinen's team will be wearing Medanta's clothes: white chef's jackets with short sleeves, white aprons and black trousers. Even the support team will be wearing Medanta.
"It's a good idea that each group will have consistent outfits. It's also stylish: there will be no teams with a mishmash of hoodies, blazers and flip-flops."
According to Sipeläinen, good work clothes boost your mood.
"Work clothes should be so good that you look and feel an inch taller. Such clothes make you feel the same way you feel when putting on a suit," says Sipeläinen.
"Medanta's trousers are not only comfortable, but also smart-looking. If you combine a brand-new pair of Medanta's trousers with a blazer, I would say you're ready for practically any occasion."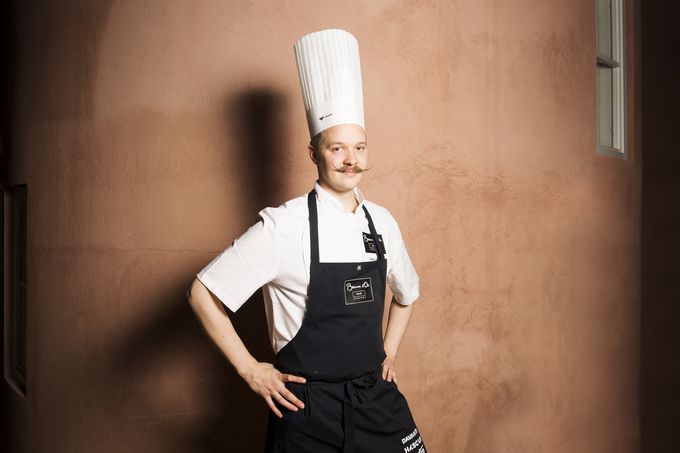 Who?
Ismo Sipeläinen has worked for top restaurants in Helsinki: Finnjävel, Olo and G.W. Sundmans. He is currently focusing on the Bocuse d'Or competition and only works for short periods at a time.
2018–2019 Bocuse d'Or: leader of Team Finland
2016 Nordic chef championship: second place
2015 Chef of the Year
2013 Nordic Junior Chef: winner